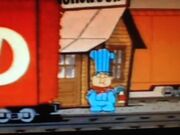 Conjunction Junction
is the most popular "Schoolhouse Rock" song, and it was featured in "Grammar Rock". Its lead vocals are sung by Jack Sheldon.
Grammar Rock
Edit
This song marked Jack Sheldon's debut in the series and What do Conjunctions do? In a railyard, a train conductor shows us how conjunctions work by hooking up boxcars with one of three conjunction boxcars: AND, BUT and OR.
"Schoolhouse Rock! Rocks" Cover
Edit
On the album Schoolhouse Rock! Rocks, the song is covered by Better Than Ezra and is on track 4. The music video, being featured at the end of the Science Rock tape, is the only one to have clips outside Grammar Rock, the beginning having a clip from "I Got Six" (Multiplication Rock) and one from "Elbow Room" (America Rock). Animals appear in this episode Ducks
The song was featured in a comic strip of FoxTrot in which Paige asks her father Roger what a conjunction is, and he sings part of the song.
The song is also sung on "The Substitute", an episode of Glee, but it is acapella, short, and a bit off-key.
Schoolhouse Rock: Math Rock (constellation cameo appearance)
Edit
The Conjunction Junction Railroad Conductor appears as a constellation.
Ad blocker interference detected!
Wikia is a free-to-use site that makes money from advertising. We have a modified experience for viewers using ad blockers

Wikia is not accessible if you've made further modifications. Remove the custom ad blocker rule(s) and the page will load as expected.