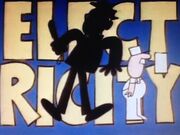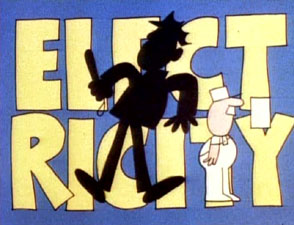 This song is a part of
Science Rock!
It goes over how electricity works, and how it was discovered. The music and lyrics are both by Bob Dorough. It is performed by Zachary Sanders on lead (with women singing in the background), and first aired in 1979.
Science Rock
Edit
This song teaches about the use of electricity and the concepts (such as voltage, static electricity, watts and current) behind it.
"Schoolhouse Rock! Rocks" Version
Edit
On the album "Schoolhouse Rock! Rocks", the song was performed by Goodness on track 5 in 1996. The music video for it is the only video to have any live-action clips, particularly of the group. When clips from the episode are not shown, the band is shown performing in a room with high voltage. It is shown at the end of the "Multiplication Rock" tape.
Ad blocker interference detected!
Wikia is a free-to-use site that makes money from advertising. We have a modified experience for viewers using ad blockers

Wikia is not accessible if you've made further modifications. Remove the custom ad blocker rule(s) and the page will load as expected.