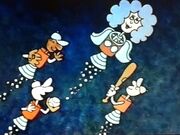 This song is a part of
Science Rock!
Science Rock
Edit
This song teaches about our solar system, as explored by the titular character, an extraterrestrial character with a rocket tail, wings and a humanoid head who explores the solar system, meant to represent a comet. Animals that appeared in this episode Elephant Dog Horse
Schoolhouse Rock: Math Rock (Constellation cameo appearance)
Edit
Interplanet Janet appears as a constellation.
Ad blocker interference detected!
Wikia is a free-to-use site that makes money from advertising. We have a modified experience for viewers using ad blockers

Wikia is not accessible if you've made further modifications. Remove the custom ad blocker rule(s) and the page will load as expected.