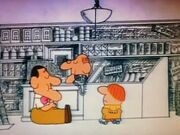 Lolly, Lolly, Lolly, Get Your Adverbs Here
Edit
Lolly get those adverbs. The use of adverbs is presented by the Lolly family, owners of a store that sells adverbs. Bob Dorough provides the voices of all three generations of Lollys at various speeds.
"Schoolhouse Rock! Rocks" Cover
Edit
The song was covered by Buffalo Tom and is on track 13. An unknown woman does some of the spoken words, and it's unknown who did the boyish voice.