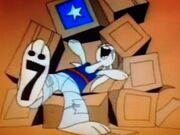 This song is a part of Multiplication Rock! It goes over multiplying by sevens. The original airdate was February 17, 1973.
Lucky Seven Sampson Multiplication Rock
Edit
Lucky Seven Sampson is a lucky but mischievous rabbit with the number 7 stamped on the bottom of his right foot and a black circle around his left eye. He teaches kids from Public School #7 about the multiplication of 7.so
Ad blocker interference detected!
Wikia is a free-to-use site that makes money from advertising. We have a modified experience for viewers using ad blockers

Wikia is not accessible if you've made further modifications. Remove the custom ad blocker rule(s) and the page will load as expected.