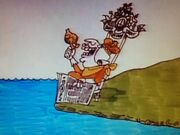 No More Kings is a song from "America Rock!". It is sung by Lynn Ahrens about the pilgrims.
This song teaches about the pilgrims settling in America up to the Boston Tea Party (excluding the Boston Massacre).
Schoolhouse Rock! Rocks Cover
Edit
It is sung by the group Pavement on track 6, and it is one side of a shared single with Man or Astro-Man?'s cover of "Interplanet Janet."