Schoolhouse Rocky is a Schoolhouse Rock! theme song.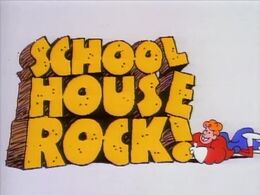 As your body grows bigger, your mind must flower.
It's great to learn...
Rocky: 'Cause knowledge is power!
It's Schoolhouse Rocky, that chip off the block
Of your favorite schoolhouse, Schoolhouse Rock!
Come on, let's follow him down to that place of renown.
They call it the Conjunction Junction Diner.
With Schoolhouse Rocky and friends, you know the fun never ends.
Cause everyone's a Schoolhouse Rock headliner.
(Extra!)
Rocky gets the diner cooking in short orders when he feeds that video jukebox nickels, dimes, and quarters.
Conjunction junction, what's your function?
Conjunction Junction: Working with multiplication to music.
Rocking with grammar and science and history.
Rocky's assistant from another song: With music on the menu, learning's really no mystery. 
Conjuntion Junction: When you're in Conjunction Junction
All: Fun's your function!
Conjunction Junction: Picking up this schoolhouse rocking around the clock.
And now you'll have some fun watching Schoolhouse Rock!
Ad blocker interference detected!
Wikia is a free-to-use site that makes money from advertising. We have a modified experience for viewers using ad blockers

Wikia is not accessible if you've made further modifications. Remove the custom ad blocker rule(s) and the page will load as expected.