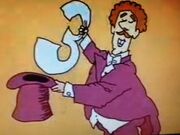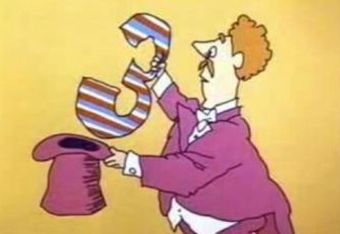 Three is a Magic Number is a song from Multiplication Rock! It goes over multipling by three. This song was the piolot episode of the whole Schoolhouse Rock! series. It features a magician, who goes over multipling by three while many examples are provided. (A man and a woman have a baby-three in the family, heart, soul, body- three parts) The music and lyrics are by Bob Dorough, and it is also preformed by him. The original airdate was January 6, 1973.
Animals appearing in this episode Octopus Fish Chicken Rabbit
Three is a Magic Number
Edit
Multiplication Rock
Edit
The pilot episode of the series, a magician shows how magic the multiplication of 3 really is.
Blind Melon's cover of the song appeared in track 3 of "Schoolhouse Rock! Rocks".
Ad blocker interference detected!
Wikia is a free-to-use site that makes money from advertising. We have a modified experience for viewers using ad blockers

Wikia is not accessible if you've made further modifications. Remove the custom ad blocker rule(s) and the page will load as expected.