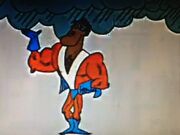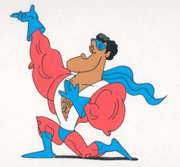 Verb: That's What's HappeningEdit
Grammar RockEdit
A song of the same topic was proposed by Dave Frishberg, but denied. The song, a parody of Shaft and other films and songs, features a young boy who learns about about verbs from a movie starring his favorite superhero, Verb.
Animals and People Who Appeared in this episode Edit
Elephant
Snake
Dolphin
Alligator
Horse
Cat
Rhinoceros
Lion
Moose
Rabbit
Goat
Schoolhouse Rock! Rocks Cover
Edit
Moby performed a cover of this song, including playing all of the instruments used. It is on track 11 of the album.